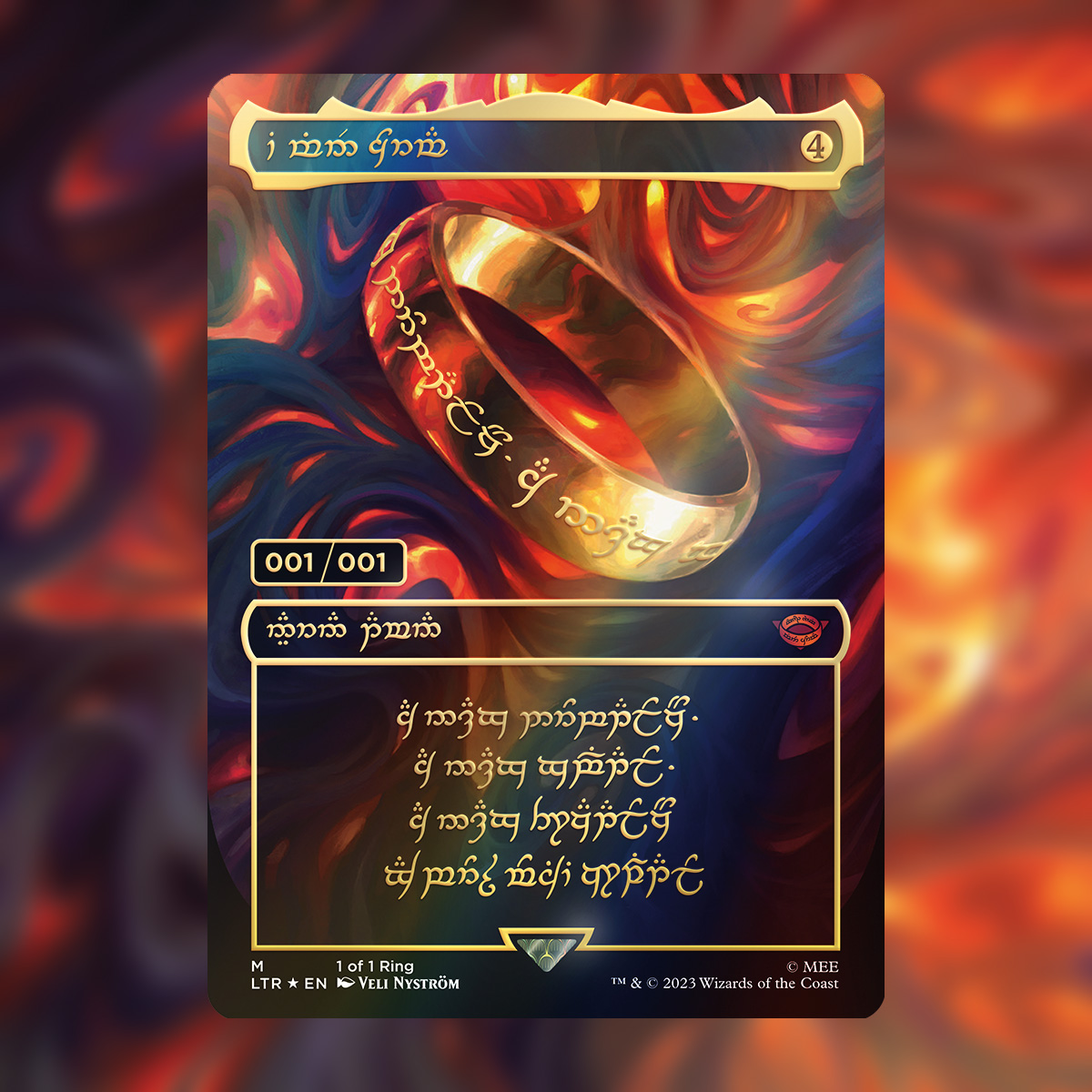 What's Next for $2 Million Worth 'Lord of the Rings' Game Card?
Hey everyone! Hasbro released new 'Lord of the Rings' themed cards for their trading card game, Magic: The Gathering. The game is widely popular worldwide, its player base spanning 35 million people across 70 different countries. So, a 'Lord of the Rings' crossover is a huge deal for many people.
One card that takes the spotlight is the one-of-a-kind "One Ring" card. Although having different versions of the same card, there is a super rare version that has Black Speech inscribed on the ring itself. Many are curious as to what will happen to the card, including the official Twitter account for Magic: The Gathering. The one-of-a-kind card's anonymous owner has revealed their plans regarding the future of the card. In a statement through their PR firm The Notable Group, they told to Newsweek:
"It has been unreal. The whole experience has been an exciting whirlwind. I am planning on selling the card which will make my life a whole lot easier." Although with the potential 2 million dollars in their bank account, they don't plan on retiring.
"I will continue working at the same company that I've been with for the last 10 years, but maybe I'll take a few more vacation days."
One Ring to rule them all, One Ring to find them, One Ring to bring them all and in the Darkness bind them.

We are thrilled to hear tale of a new Ring-bearer in possession of the serialized 1:1 The One Ring! This journey is finished, but the adventure with #MTGxLOTR's continues! pic.twitter.com/nlKqJ02Qqk

— Magic: The Gathering (@wizards_magic) June 30, 2023
The card has been authenticated by collectibles industry leader the Professional Sports Authenticator with the "Mint 9" rating, meaning the second highest tier available. Prior to the card being discovered, A Spain-based collectible cards store has offered 2.2 million dollars and a trip to Valencia for the card. Though this is just a bid starter, as now the owner has announced that they intent to sell, the bids can go higher.
Who wouldn't wish they owned the card? ;( Come express your desire in our Discord and other social media (including our new Threads account) found in our website! Also don't forget to check the latest exclusive news from Rings of Power!