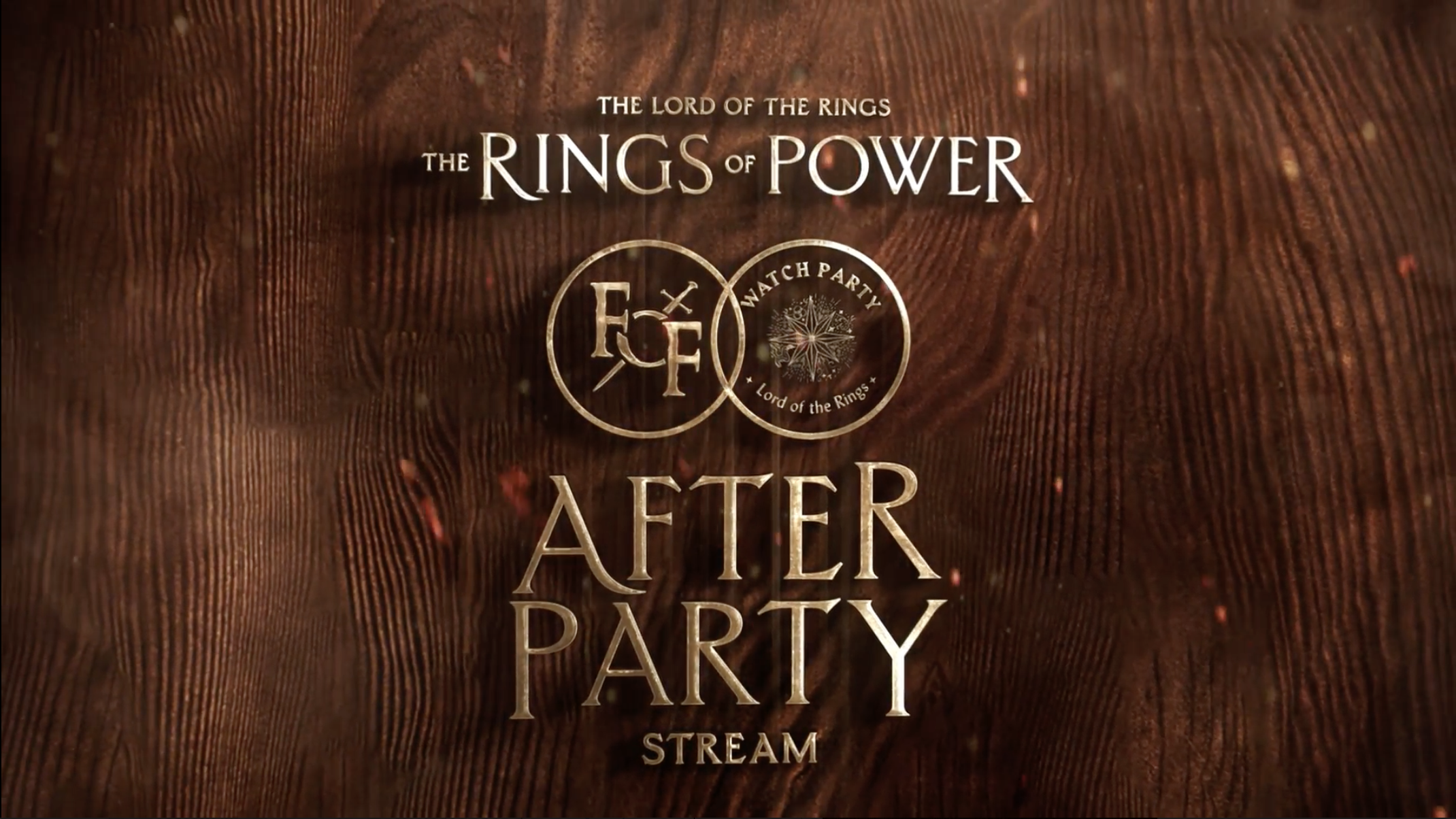 FoF x Watch Party LOTR | Rings of Power After Party Announcement
?ANNOUNCEMENT?
We have big plans for our coverage of #RingsOfPower. We're all about creating fellowship here, so we partnered with the Watch Party Network (https://twitter.com/LotrParty) to produce events that celebrate the entire Tolkien community. Read on to find out how you can participate! ⬇️
The weekly fun will kick off with a live watch party upon episode release, after party discussion on Sunday at 2:30pm EST with food, drinks, art, special guests, games, and more along the way. Full details as follows ?
?LIVE WATCH PARTY?
We're bringing the whole fellowship together to livestream our immediate reactions during "The Rings of Power Reaction Hour" watch party along with all of you!
?‍?FOOD?‍?
We've partnered with chefs/food bloggers to create custom recipes for our audience. @LotrParty will tweet the recipes a week before each episode of #RingsofPower so that everyone can enjoy cooking and eating together while watching Middle-earth come to life. 
?DRINKS?
Each week Watch Party LOTR (https://twitter.com/LotrParty) will also tweet out a Lord of the Rings themed cocktail recipe custom crafted for us by Liquor and Lore (https://twitter.com/LiquorLore), so we can all watch #RingsofPower with a cup of Ent-draught.
?PRE-SHOW CHAT ROOM?
On the nights of the episodes, our Discord server will be open 2 hours before the show airs so that people can chat about #RingsofPower while they cook and enjoy their cocktails.
#⃣BE FEATURED ON STREAM#⃣
Send us pictures of your at-home watch parties, your cosplay, and your food and cocktails using the hashtag #FoFWatchParty, and you may get featured on our Sunday stream.
?TRIVIA?
Each Saturday, we'll tweet an obscure trivia question from the episode that only eagle-eyed viewers will be able to answer. Rewatches may be necessary! The first person to respond correctly will win a custom T-shirt and get a shout out during our Sunday stream.
?AFTER PARTY?
Then, join us each Sunday at 7:30pm UK/2:30pm EST for our "#LOTRROP After Party," featuring 2 brilliant discussion panels. First, a panel of NEW fans that are discovering Tolkien through #RingsofPower will discuss the show on its own merits, spoiler-free.
?DEEP-DIVE PANEL?
A second panel of Tolkien superfans analyzing the show based on the books and the lore will follow, where we'll also make predictions about what we might see in the next episode.
?LIVE CALL-IN?
Most importantly, YOU can participate in these discussions. Not only can you comment in the chat, but you will be able to call-in LIVE to ask the panel a question, propose a theory, and make predictions.
?ART?
But it doesn't stop there. We will celebrate the brilliant community of Tolkien fan artists by spotlighting a different artist each week. Each artist has donated some of their work, which we will give away to one lucky winner during the After Party livestream! And, so that everyone can enjoy the fun, these artists will offer our followers a special discount code to their store the entire week they are featured. We hope you all support these generous artists by purchasing their work, which we assure you is beautiful!
?COMMUNITY?
Most of all we want to celebrate you! During the stream we will share our favorite pictures that you tweet of your home watch parties, your cosplay, and your food/drink, and we may hand out a few T-shirts as souvenirs. Use #FoFWatchParty
Make sure to follow https://twitter.com/LotrParty so that you see all our announcements about food, drink, and art right away!
We can't wait to experience the #RingsofPower with you. We'll see you in Middle-earth!